Original cover of the "Make do and Mend"
booklet first published in 1943 by His
Majesty's stationery office
This week on the blog we are trying our hand at some DIY clothes altering! If you're like me, then you have lots of clothes clogging up your wardrobe that never see the light of day... but rather than throw them away the next time you clean our your wardrobe or move house, why not turn them into something useful and wearable? It's all part of a more sustainable way of living, and it also saves money! So for this blog I was inspired by the old war time slogan to
Make do and Mend.
I didn't quite do it on my own though, I have to admit. Luckily, the lovely Emma from
Recycle Boutique NI
was hosting a pop up shop and DIY fashion workshop in Cafe Wah in Belfast. So apart from getting expert advice, I was also fueled with excellent and incredibly cheap coffee!
Recycle Boutique Northern Ireland
is a great initiative that helps to reduce waist by re-selling and re-cycling your old clothes. Emma will take on your once-loved garments and sell them on at her pop up shop events or recycle them into something new and exciting. And here's the best bit: 50% of the profits from your clothes go directly into your pocket!
Here's the dress I decided to upcycle. I bought this dress a few years ago in Dunnes, but I very rarely wore it. It was just too much powder pink all at once. So I decided to turn it into a skirt.
What I used:
All I needed for this revamp was:
- elastic band
- white thread & needle
- pins
- scissors
- use of a sowing machine
- cream elastic lace
What I did:
I simply cut off the top half of the dress above the waist line, making sure to leave enough room for a hem. I then measured and cut off a strap of elastic band to be fit inside the new top hem and pinned it in place. Next I sowed on the elastic band (not having the hem folded over yet). Big thanks to Emma for letting me use her sewing machine! Unfortunately my sewing skills proved a little rusty and the stitching turned out rather wonky... I then pulled the rest of the fabric over the elastic, pinned it and stitched it to form the hem.
To cover up the wonky stitching on the hem I got some elastic cream lace and hand stitched it over the hem. And voila: one dress turned into a skirt with elastic waistband, that I can now combine with a variety of different tops and colours! Like this white blouse for instance:
To link in with creativity month
Recycle Boutique NI
are hosting some more free DIY fashion workshop throughout March. Check their facebook or follow them on twitter to find out more.
But let's not stop there. Here are some more great recycle and DIY fashion tips...
Don't know what to do with that pair of white pants you never wear? My beautiful and very creative friend Emily decided to give hers some funk by printing diamond shaped polka dots on them. Go over to Emily's Blog
From China Village
to find out how she did it!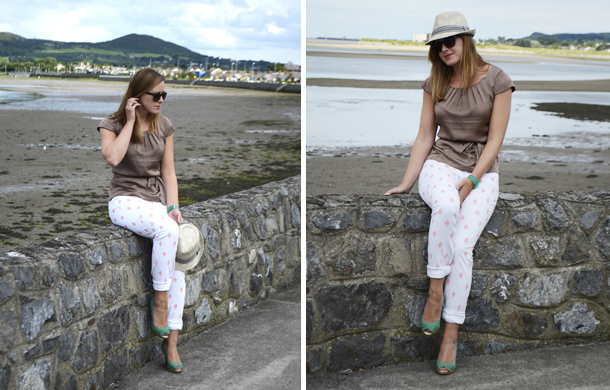 Emily wearing her funky polka dot pants
Got a bunch of old T-shirts lying around? Head over to Brit + Co to learn how to turn them into these awesome tote bags:
And if you really just have unusable clothes and scraps of fabric left over, why not try and make them into a cute heart shape garland? It's dead easy, check out this article to find out everything you need to know.
Do you feel inspired? I certainly do! I had a great time at the recycle workshop... Although I doubt that mending and making do was as much fun during World War II as it is today... in case you're interested, you can find some fascinating memories of what it was like on BBC's website.